Pecorino Toscano DOP, all the purity, fragrance and sweetness of a cheese with an unmistakable aroma.
Tuscan Pecorino DOPrepresents one of the simplest, yet most sought-after cheeses ever. A pearl with an unmistakable, sweet taste that leaves you feeling tempted. A type of cheese product of which the Vinness is used to impart just the right amount of sweetness to every dish it is combined with.
A rich combination also chosen by the customer himself, who may decide to delight only in its fragrant, sweet flavour, perhaps by pairing it with a good wine and, therefore, a fine label made available by the wine shop Vinness.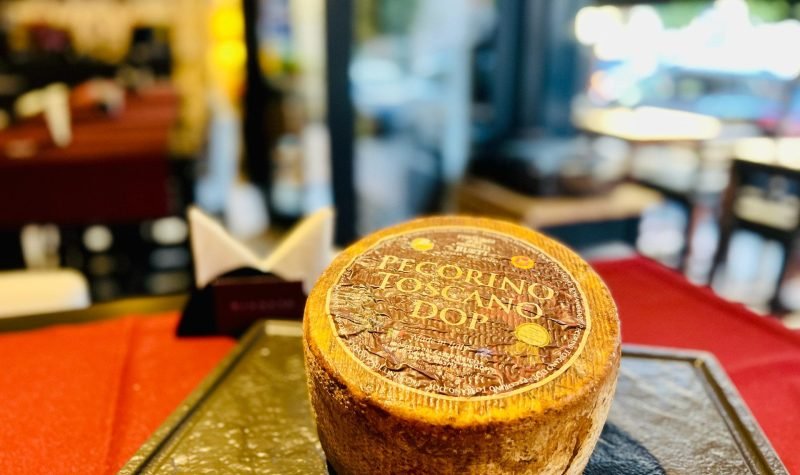 Pecorino Toscano DOP, a refined and valuable product.
A refined product that, during the maturing period, even undergoes treatment with olive oil, which gives the rind that typical brown colour.
The manufacturers themselves illustrate the Pecorino Toscano PDO as a soft, medium-mature cheese, produced exclusively with pasteurised milk selected from breeders enrolled in the Consorzio di Tutela del Pecorino Toscano PDO. Its white-coloured paste is compact and slightly chalky with an inviting taste.
Precise connotation and old-fashioned taste.
The Pecorino Toscano PDO has a very ancient history dating back to Roman times. In fact, there are numerous historical documents mentioning its presence from the aforementioned time. A well-defined type of cheese product known throughout Tuscany as 'cacio'.
A product that joins the long list of raw materials used by the Vinnessa set of culinary specialities certified and highlighted by the local food itself with the aim of showing its customers the quality and origin of each product used in each dish. This is the transparency that characterises the Vinnessan intimate, yet convivial local food venue where excellence is at home.
And in the case of this cheese, the perfect combination is indicated in different ways, especially to embellish certain dishes. But that's not all, as there is also the possibility of accompanying it in total purity with jams, honeys, fruit and fresh seasonal vegetables.
Finally, it is recommended to pair with purely red or white wines (available in the wine shop's various fine labels Vinness).