Red Velvet, as red as passion and as soft as the sponge cake that characterises this sweet American dessert.
A dessert that joins the long list of desserts offered by the Vinness with the aim of delighting even the most discerning palates, those in search of something tasty, unusual and sophisticated.
A slice of goodness translated into the snow-white flavour of passion-red sponge cake, matched with the tender delicacy of an exquisite cream cheese. An American dessert that will delight your taste buds.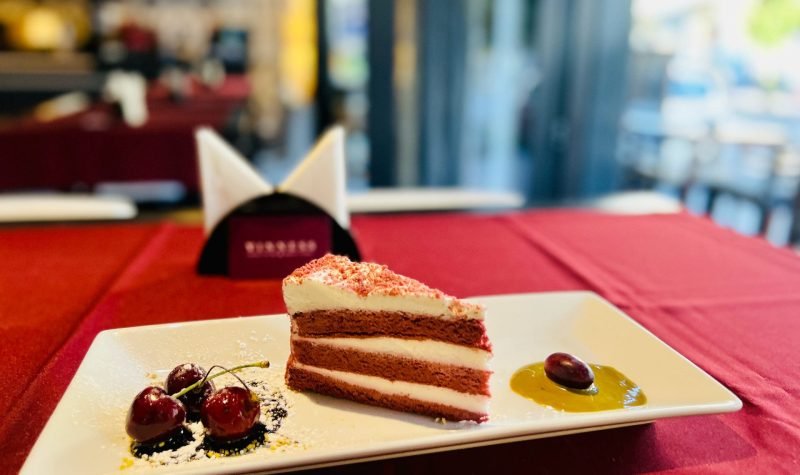 Red Velvet, fusion of taste.
A slice of Red Velvet represents all the taste and essence of overseas desserts. In fact, we are talking about a typical American dessert that conquers already at the sight (and we are not just saying that to create a nice assonance).
A perfect fusion of simple yet special ingredients that will win over even the most sceptical. And if you love homegrown flavours, the Vinnessguarantees you total certainty, despite the fact that this is not - strictly speaking - an Italian dessert.
Sponge cake, cream cheese and sprinkles: the perfect fusion of simplicity and essence of taste.
A real treat from overseas.
The Vinness knows how to pamper its customers, which is why its rich menu includes culinary, gastronomic and haute patisserie offerings to satisfy every palate and every detail. 
This is the case at Red Velvet, which skilfully illustrates the peculiar care that local food takes in its choices to offer only the best. 
Proposals conceived according to absolute values, i.e.: realising each delicacy with certified ingredients and raw materials that, through the perfect combination and marriage, convey all the goodness of taste. Pathos, emotions and art will be that trinomial that will also be realised during the tasting of this special dessert.
The photo of this proposal highlights what the Vinness serves its customers, both in composition and in quantity and quality, which in this case translates into a slice of American dessert.