Tiramisu Savoiardi, a dessert loved and desired by all, a true plunge into the heart of Italian sweetness.
A dessert that absolutely could not be missed among the sweet proposals made by the Vinnesswhere, again, it tends to go above and beyond to offer only the best to its customers. Pure sweetness blended between layers of tender ladyfingers dipped in coffee. Intense aromas and local perfumes that conquer the palate. No one can resist them!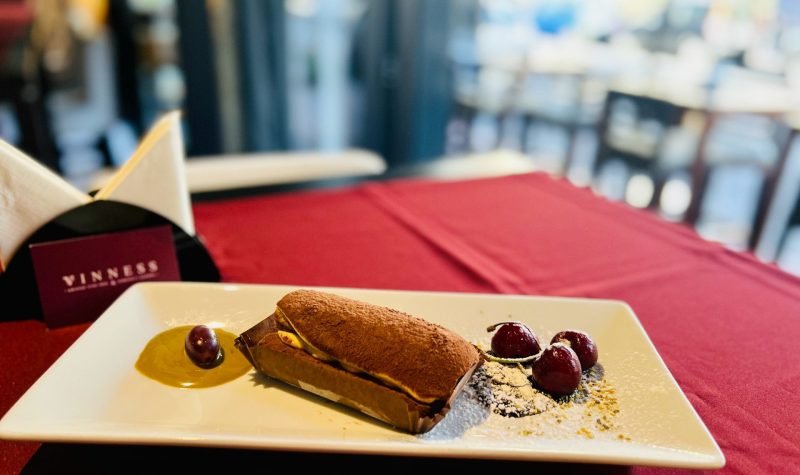 Tiramisu Savoiardi, an ancient confectionery tradition.
The Vinness proposes one of the most traditional spoon desserts loved since its origins. We are talking, logically, about an all-Italian dessert that is always much loved and desired: the Tiramisù Savoiardi biscuits.
Savoiardi, coffee and mascarpone are, of course, the main ingredients of this delicacy that, in its simplicity, has managed to conquer the palates of all Italians (and not only).
A temptation that is good to taste and beautiful to look at, which is also able to release its infinite goodness through the scent it emanates when it is served to you. A version that the local food chef/pastry chef also proposes with a certain artistic touch so as not to leave anything to chance. After all, the eye wants its part too!
Layers of refined sweetness.
Mascarpone cream and coffee-soaked ladyfingers, in a nutshell this is simply: Tiramisu Savoiardi. A great dessert at any time of day or just to satisfy the craving for flavour that the Vinness will take care of satisfying. A huge selection of dishes and confectionery products so good they will be mouth-watering. Temptations of gluttony for moments to be savoured slowly in order to savour all the sweetness of an all-time favourite dessert.
The photo of this proposal highlights what the Vinness serves its customers, both in composition and in quantity and quality, which, in this case, translates into a kind of irresistible 'slice'.
See all our Proposals
Immerse yourself in the bewitching taste of an irresistible, tantalizing dessert.