Polpo alla Luciana, the perfect encounter between a seafood delicacy and the essence of earthy aromas for a tasteful journey.
Octopus alla Lucianaspicy notes and the scent of the sea, the perfect dish that cannot be missing from the menu of excellent local food: the Vinness.
All the flavour of the sea in a single dish that will win over even the most sceptical. The incredible encounter of the octopus with the essence of earthy aromas for a unique, unrepeatable, unforgettable and exciting journey that will delight you throughout. Taste and authenticity offered by the combination of the EVO oil with the tomato and the delicious octopus, plus the unmistakable aroma of white wine and the addition of black olives, capers, chilli pepper and garlic (inevitable given the origin of the dish).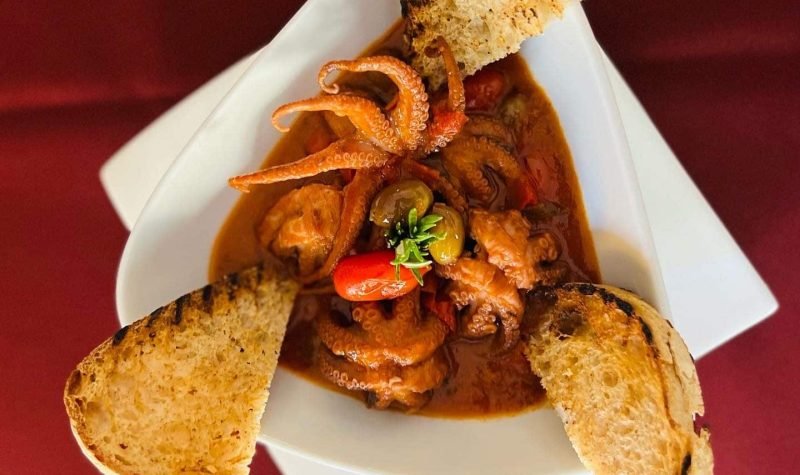 Octopus alla Luciana, an exquisite and delicious temptation.
The Octopus alla Luciana is one of the most delicious, popular and sought-after dishes. A gastronomic proposal that is synonymous with a real temptation to which it becomes a pleasure to give in willingly.
A seafood speciality to be enjoyed alone or in company, such as at a convivial banquet with friends, in an intimate, refined and elegant venue, where the soft lighting creates an intense pathos typical of that artistic refinement that translates into both the culinary proposals created by the excellent chef and the magic of the Vinness. A unique and unmissable offer.
The ingredients of a dish that is always in demand.
The Octopus alla Luciana is, with absolute certainty, one of the most delicious and exquisite dishes ever. A much-loved dish that recalls the taste and scent of the sea. An immersion in the beautiful crystal-clear waters that becomes synonymous with the whiff of fresh ingredients and raw materials.
And again, the exquisite and extremely pleasant melt-in-your-mouth feeling that this dish offers. A whirlwind of flavours that is illustrated by the presence of the delicious baby octopus to which earthy hints are given through the spices and EVO oil. But also: the unmistakable aroma of white wine, garlic, black olives, capers and, finally, chilli pepper.