Caciocavallo Irpino aged in caves, an exquisite and delicious cheese that highlights and brings out all the goodness of milk.
Caciocavallo Irpinoa niche product that the Vinness offers its customers some delicious dishes or dishes that mix sweetness and the true essence of flavour.
As always, this cheese represents the sophistication of local food excellence that wants to offer its customers only the best of local products from certified (only Italian) areas.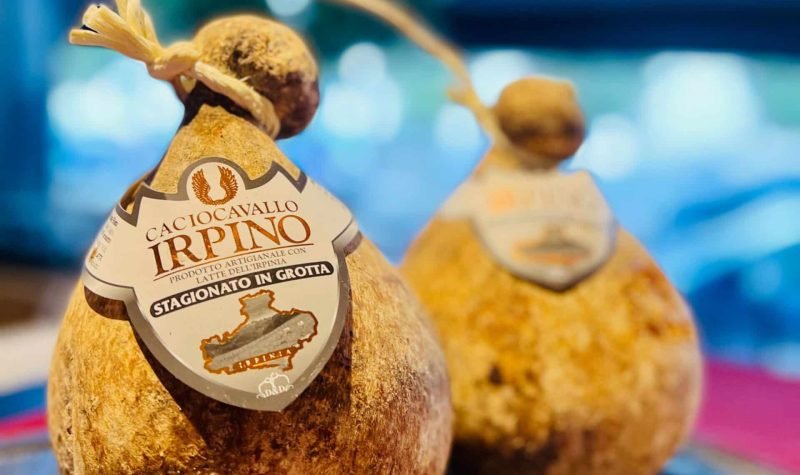 Caciocavallo Irpino cheese matured in caves, savoury and slightly spicy flavour.
The Caciocavallo Irpino has its roots in Irpinia and Basilicata, in fact it is made from pasteurised whole cow's milk from cows reared in the aforementioned areas.
Obviously, what stands out most is its flavour and the appearance with which it appears before the eyes of tasters. Fundamental details on which the Vinness pays the utmost attention, as it aims to serve quality in every dish. And, dulcis in fundo, the refinement in creating the perfect pairing, where the chef's experience excels, giving an artistic touch with a perfect alchemy of flavours.
Essence of sweetness with a spicy aftertaste.
The taste of Caciocavallo Irpino is savoury and, at the same time, slightly spicy with hints of cooked butter, but with a good, excellent persistence. To the eye, it has a thin rib with shades of colour ranging from earthy to light grey. While, the paste is straw yellow in colour, compact and with sparse eyes. It is usually matured for six months (the basic one) and every single step behind its 'creation' is taken care of in detail. In fact, what is fundamental and dear to the Vinness is the fact that the cheeses are completely handmade according to the ancient artisanal method.
Taste, quality and refinement of Italian flavours.